TL;DR
Integrate B.Protocol v2 with bZx to offer better liquidation ratios, and up to x15 leverage on specific trading pairs in Fulcrum, using 105% maintenance margin.
B.Protocol is a backstop liquidity protocol for DeFi, handling liquidations in scale. B.Protocol v2 is pooling users' funds that are dedicated towards liquidations, using the B.AMM (Backstop AMM) novel design.
Expected Benefits
For Users: Have better capital efficiency for using their funds in DeFi. Getting a bigger buffer before being liquidated when using leverage with better liquidation ratios.
For bZx: Being the first lending platform in DeFi to offer high leverage on non stable coin pairs, earn fees for the protocol, grow TVL and user base.
For B.Protocol: This would be one of the first Polygon integrations for B.Protocol, entering into new markets.
For DeFI: Providing a backstop to enable a better liquidation system that can unleash better capital efficiency for DeFi users and more stability for lending and margin trading platforms. Prove again that composability introduces new opportunities in DeFi.
Details
This proposal suggests starting with a pilot experiment over the MATIC/USDC and the MATIC/USDT trading pairs on Fulcrum over Polygon with x15 leverage on long positions, and with margin maintenance of 105% .
From discussions held with the Polygon community we understand there is high interest for long MATIC positions with higher leverage than what the current platforms offer. As USDC and USDT are very liquid assets it will be easier to pool the needed liquidity for a strong user-based backstop.
Users' funds deposited into B.Protocol v2 will be held in an interest bearing QuickSwap USDC/USDT pool while idle, and will be used for liquidating any unsafe MATIC/USDC or MATIC/USDT position whenever needed. The seized MATIC collateral will be sold back into USDC or USDT and be returned into the QuickSwap pool with any additional profits made during the liquidation and rebalancing process (see the illustrated diagram below for a high-level design of the integration).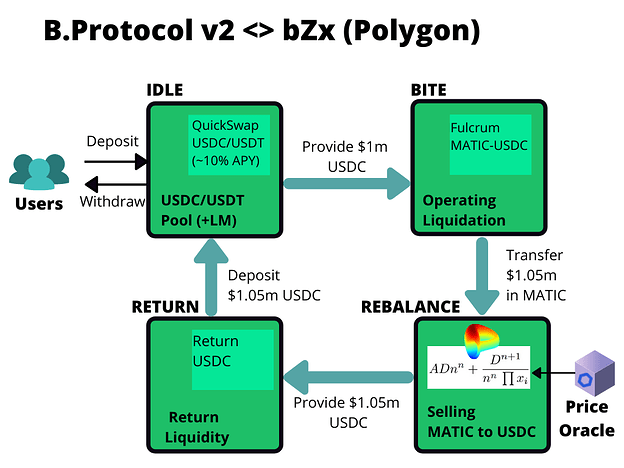 Tokenomics
As B.Protocol offers to raise the leverage from x5 to x15, (e.g. improving the maintenance margin from 115% to 105%) it will enable users to have x3 more borrowing power from the platform, that will result in more fees collected for the DAO.
According to the current Polygon farming subsidies, the DAO estimates the expected revenue per deposited USD by at least 5 cent yearly. The protocol's collected fees are mostly from the trading activity that is done over the borrowed assets.
As currently on average in bZx, every $1 of collateral gives rise to 30 cents of borrow, supporting 105% margin maintenance will allow people to maintain a better collateral to borrow ratio, and could potentially increase it to 60 cents, accruing higher fees for the DAO.
Incentivizing Backstop deposits
In order to incentivize early depositors into the backstop pool of USDC/USDT, and in order to demonstrate the endless composability opportunities in DeFi, a joint Liquidity Mining program will be put in place, that will reward liquidity providers with BPRO, BZRX, (and perhaps also with QUICK and MATIC tokens).
We request the bZx DAO to approve an allocation of 250k BZRX tokens (~$100k worth at the time of writing) that will be used towards incentive rewards for the backstop depositors. These funds will be distributed to LPs according to a bonding curve that will take into account the TVL which is needed to backstop the bZx protocol as it grows. For the initial launching phase, we are aiming for $500k deposits which could support up to $2.5m of liquidations, and would require up to 100k BZRX.
About B.Protocol